ICT Computer Aptitude All Notes NTA UGC NET JRF
Computer is an electronic device which is capable of receiving information (data) in a particular form and of performing a sequence of operations in accordance with a predetermined but variable set of procedural instructions (program) to produce a result in the form of information or signals.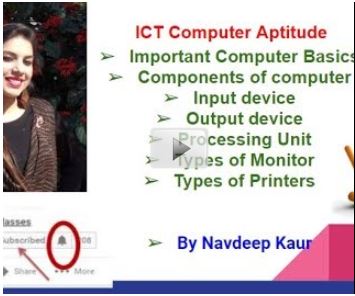 A Computer is a General purpose machine, commonly consisting of digital circuitry, that accepts (inputs), stores, manipulates, and generates (outputs) data as numbers, text, graphics, voice, video files, or electrical signals, in accordance with instructions called a program
| | |
| --- | --- |
| Basics of Computer and Input Devices with Examples | |
| CPU and Output Devices with Example | |
| Printers and Storage Units | |
| Cache, Registers, RAM ROM | |
| Memory Units and Secondary Memory | |
Father of the computer

 – Charles Babbage

Father of the modern computer 

– Alan Turing

Basic Architecture of Computer:

 John Von Neumann (1947-49)  

Von Neumann Architecture

. 

Von Neumann architecture

 was first published by 

John von Neumann

 in 1945. His 

computer architecture design consists of a Control Unit, Arithmetic and Logic Unit (ALU), Memory Unit, Registers and Inputs/Outputs. This design is still used in most computers

 produced today.

First Programmer:

 Lady Ada Lovelae (1880) Augusta Ada King-Noel, Countess of Lovelace was an English mathematician and writer, chiefly known for her work on Charles Babbage's proposed mechanical general-purpose computer, the Analytical Engine.
First Electronic Computer:

 ENIAC (1946) – J.P. Eckert & J.W. Mauchly 

at the University of Pennsylvania.
First computer for the home user introduced – IBM in 1981